10 July 2014
Palestinian families trying to escape the Israeli air-raids
"Smoke and fire rise from an Israeli missle strike in Rafah, Tuesday, July 8, 2014." (AP/Eyad Baba)"
The sheer genocidal power of these bombs being criminally dropped on Palestinian homes and hospitals is horrific. "Strategic strikes" my ass.
The Zionists continue to bomb all over Gaza. I'm not there, my heart is and I wish I were…but there are some great Palestinian and international journalists, activists and bloggers keeping the info and photos coming out of Gaza.
First, the list of the martyred, as of earlier today. Surely and sadly it will be longer by now. The murdered are 53 now,
according to Ma'an News
, but at time of publishing the number was 41.
Al Akhbar
reported
:
The Gaza health ministry has released the names and ages of 41 Palestinians killed so far in the besieged strip since Israel began its relentless assault early Tuesday. Among those killed, 13 were aged 16 or younger. The youngest victim, 18-month-old Mohammed Malakiyeh, was killed along with his 27-year-old mother. The oldest victim, 80-year-old Naifeh Farjallah, was killed in an air strike on the town of Moghraqa, southwest of Gaza City.
The single deadliest strike killed eight people Tuesday in southern Gaza when Israel bombed the Hamad family home.
Palestinian resistance ARE fighting back, as one would. But their rockets can never match the arsenal the Zionist regime possesses, nor do they have any military vehicles (tanks, apaches, war planes, war ships, drones). It's an unfair fight, as usual, as is the history of occupied Palestine.
For example,
Israel using banned weapons in Gaza: Medical sources
:
Palestinian Health Ministry spokesman Ashraf al-Qodra said the bodies of most victims had been incinerated, while others had been completely torn apart.
He said Israel was deploying weapons that destroy the bodies of their victims, noting that a preliminary survey of victims' bodies revealed the horrific nature of the weapons being used in Israel's ongoing onslaught on Gaza.
"Israel used internationally-banned weapons in its two previous wars on Gaza," al-Qodra told Anadolu Agency. "The same weapons are being used now."
Eyewitnesses, meanwhile, have reported that Israeli airstrikes had incinerated the bodies of Palestinians who happened to be near targeted sites.
Israeli warplanes, they added, were using missiles that destroy their victims' bodies, often cutting them to pieces.
Photos showed Palestinians whose limbs had been blown off and others whose bodies looked as if they had been subject to chemical attack.
Further imbalance:
Israel destroys 55 Gaza homes in 2 days:
Fifty-five Palestinian homes have been leveled in a series of Israeli airstrikes across the Gaza Strip over the past two days, the Gaza Interior Ministry said Wednesday.
It added in a statement that Israel had launched around 500 strikes in the last 48 hours, some 85 percent of which had targeted Gaza's energy and communications infrastructure.
Adding to the imbalance, the corporate media is parroting the Zionists' lies about security. And the Zionists continue with their tactic of dehumanizing Palestinians. Al Akhbar's
Israel deploys dehumanizing rhetoric to justify mass assault on Palestinians
notes:
As Israeli forces began their assault on the Gaza Strip, Israel's leaders and media ramped up a rhetoric offensive, using dehumanizing discourse to garner support for deadly military action in the besieged Palestinian territory.
Despite the intensity of the Israeli assault on Gaza, Israel's politicians are framing the military operation as one they entered against their will.
"We are not eager for battle, but the security of our citizens and children takes precedence over all else," Israeli Prime Minister Benjamin Netanyahu said on Tuesday.
Israel, its leaders would have you believe, is reluctantly entering an open conflict out of a sense of duty, once again indulging in the self-victimizing rhetoric that all Israeli military actions are defensive or retaliatory.
Neither Yaalon, Deri or Danon have acknowledged the human cost of such actions on Gaza, an enclave already suffering because of the crushing Israeli siege and already struggling with fuel and electricity shortages. Nor did they mention the loss of civilian life which is the inevitable consequence of wide military actions in such a densely populated territory….
Haidar Eid gave the following excellent interview:
Free MP3 download: Dr. Haider Eid live from Gaza – 09 July 2014.mp3
Global Post shared
what most media will not: These are the images from Gaza that are too graphic for many US news outlets to publish
Human misery is hard to look at. But it's one way to understand the true cost of warfare.
The father of Palestinian baby Ranim al-Gafur carries her body during a funeral ceremony for Ranim and her mother, Amal, on July 9, 2014 after they were both killed today in an Israeli air strike in the town of Khan Yunis in the southern Gaza Strip. (SAID KHATIB/AFP/Getty Images)
A dead Palestinian child, Mohammed Malaka, 2, is brought to the morgue at the al-Shifa hospital in Gaza City, follwoing an Israeli air strike on July 9, 2014. (MAHMUD HAMS/AFP/Getty Images)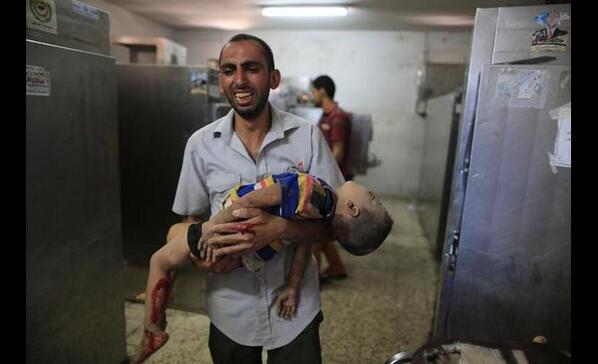 A Palestinian looks at the body of a boy killed in an Israeli air strike at a morgue in the al-Shifa hospital in Gaza City, on July 9, 2014. (MAHMUD HAMS/AFP/Getty Images)
Wounded children are brought into the the al-Shifa hospital in Gaza City on July 9, 2014 following an Israeli air strike. (MOHAMMED ABED/AFP/Getty Images)
A Palestinian paramedic shows the remains of four people from the same family after their home was targeted during an Israeli air strike on July 8, 2014 in the Gaza Strip town of Khan Yunis. In the worst strike, a missile slammed into a house in the southern part of the city killing seven people, among them two teenagers, and wounding 25, emergency services spokesman Ashraf al-Qudra told AFP. Witnesses said an Israeli drone fired a warning flare, prompting relatives and neighbors to gather at the house as a human shield. But shortly afterwards, an F-16 warplane fired a missile that leveled the building. (THOMAS COEX/AFP/Getty Images)
My young photographer friend from one of my Gaza families shares the terror of his family, trying to survive these criminal attacks. The shrieking of children (and adults) is taking place in homes throughout Gaza. July 9, 2014,
Jaber Badwan
, Deir al Balah.
Muath Humaid-Gaza
@MuathHumaid
shared the below photo, which he wrote were members of the Kawareh family, praying in a Khan Younis mosque for their dead.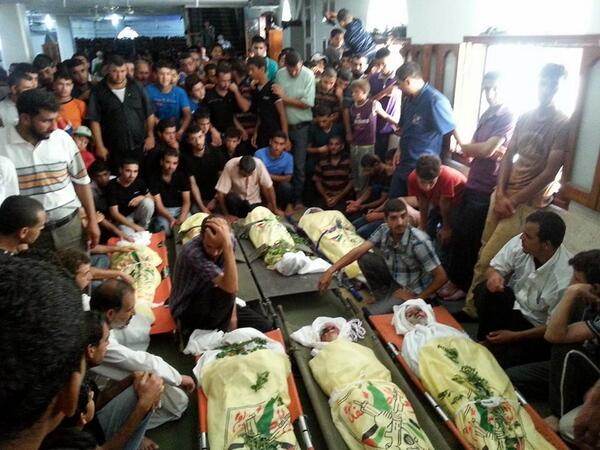 Vanessa Beeley shared
this Palestinian photographer's photo of "Kanaan Hamad, the only survivor in his family after the Israeli occupation warplanes attacked his home, killing his parents and siblings":
Medical Aid for Palestine
notes
:
Today, with air attacks intensifying, the future of Gaza looks even bleaker. For the last seven years, its 1.7 million residents have been living under the crushing weight of Israel's illegal blockade. Gaza's economy has been devastated. Basics like electricity and drinkable water are limited and costly. The health infrastructure is struggling to cope. And now, attacks by Israeli forces are now putting the health system under enormous additional pressure.
In Gaza today, the list of zero-stock medicines (essential medicines with less than a month's supply) now stands at a shocking 139 items. That's almost a third of all essential medicines. As for medical equipment like breathing tubes, almost half – 400 items – are in dangerously short supply.
But it's crucial to recall that Syria is undergoing Zionist-backed (Saudi, US, NATO, Turkish…) terrorism, and has all but fallen out of the news.
Press TV reported
today on the latest ISIS slaughter of Syrian civilians:
Foreign-backed militants have brutally slaughtered at least 14 Syrian civilians in an attack on a village in Hama countryside, security sources say.
Syrian local security officials said on Wednesday that the victims include seven men and seven women executed in the village of Khatab in the volatile region.
"An armed terrorist group infiltrated the village of Khatab at dawn and committed a massacre among the civilian residents, killing 14 of them," Syrian state television quoted a senior security official as saying.
Some local residents say there were also children among the dead.
Al-Qaeda-affiliated groups such as the ISIL cult have been also behind many of the deadly bomb attacks targeting both civilians and government institutions across Syria over the past three years.
***
Re-Blogged from: